Ask the experts
Here is a selection of Q&As from Your North East Wedding magazine. If you would like your question answered by our experts, please email it to editor@yournortheast.wedding.
To view more Q&A's on a different topic, please select one from the list below.
Hot topic: Winter is coming
Our experts offer advice on keeping it local
---
Deck the hall
Q. We love the festive period and would like to incorporate this into our wedding décor. How would you suggest we achieve a look that's more seasonal-chic than a Santa's grotto?
A. Dawn Marie says: I love a good winter wedding! There's no worrying about if the sun is going to shine like summer brides, just embrace the season and light the fires. The tacky over-the-top Christmas look is definitely out – chic sparkle and warm lighting will give you a great backdrop to your day and is classic and elegant too. Traditional festive colours like golds, deep greens and ruby reds work well but snow-white and silver can look very effective especially when mixed with some seasonal sparkle.

Use lots of mirrors and tea lights for table centres to get a warm reflective light and try stringing fairylights across the room for added twinkle. Ask if any open fires in your venue can be lit – if not pack them with pine cones and fairylights or church candles to add Christmassy smells of cinnamon spice or crisp pine scents, which will enhance the festive feel. Sequinned table runners or chair sashes, or silver grey chair dressings will add elegance and could also be matched to your bridesmaids' dresses. If you're lucky enough to get a dusting of snow, add a few snowmen into the background of photographs for a light-hearted touch.
---
Music of the night
Q. My hubby-to-be and I are at loggerheads over the music for our December reception. He says that to save money we should just create a playlist on his iPod – I, on the other hand, would rather hire a professional. How can I convince him to re-think?
A. Andy Nesbit says: Let's put it this way, are you making your own dress? Or arranging your own flowers? Perhaps DJing your own evening reception seems like it would be easy, however, for a couple of reasons it can become a real nightmare.

If you decide to try and have a disco using your iPod, you will need to hire a PA system and learn how to use it, and this can cost more than hiring a DJ – trust me, your docking station will not do!

The evening reception usually lasts for up to five hours. A professional will have a vast collection of legally sourced, quality music to cover all genres. A DJ can change the mood and tempo to reflect the tastes of the guests – an iPod on shuffle doesn't – and they will also act as MC if required and keep things flowing.

A professional wedding DJ knows what to play and when to play it, they'll discuss with the couple what they want and will give guests an opportunity to make requests.
---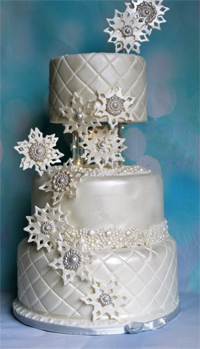 Cake expectations
Q. My wife-to-be and I are tying the knot this winter and want an elegant cake to match the season. What ideas would you suggest?
A. Helen Edwards says: The festive season is such a wonderful time of year, crisp bright mornings, cosy winter nights, and so many ways to reflect the season in your cake whether it be rustic or traditional. If you're looking to keep the design elegant, keep it simple and steer away from the bright colours of Christmas.

Snowflakes, of course, show the season and pairing them with crystals and diamanté would give you a wonderful winter wonderland look, but by using larger delicately cut snowflakes finished with an opulent pearl detailing will give your big-day bake a softer classic look. Try adding some extra height to your cake; it will immediately give a very graceful look, adding to the elegance.

In terms of flavours, a traditional fruit treat would be the obvious choice, team it with tiers of almond and spiced ginger and there will be no mistaking the season.
---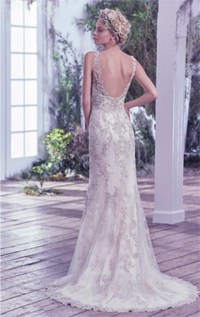 Dress to impress
Q. I'm due to say 'I do' at Christmas and am looking for a stunning gown that will suit our elegant Gatsby theme. What style would you suggest I opt for?
A. Tracey Whelan says: With a Gatsby-style wedding, brides can pull out all the stops in terms of glamour. Embrace the opulence of the '20s and '30s with decadent pearls and jewellery-inspired beading, and gorgeous sheath gowns, which reflect the legendary era. Team with dramatic hair accessories, and for a touch of vintage, add a floor-length sheer veil.

We love the Lisette collection by Maggie Sottero, where there are several pieces which evoke the Gatsby era such as Andraea. This is adorned with Swarovski crystals and glimmering beaded embellishments on soft tulle, while godet panels add soft volume and ethereal elegance to the skirt. Kylie has Swarovski crystals and beading accenting the sweetheart neckline, adding touches of whimsy and romance while precise detailing delicately adorns its illusion lace short sleeves and back.

But our absolute favourite is Greer (pictured) – a dramatic bead embellished sheath dress featuring Swarovski crystals. The illusion straps and plunging V-neckline add statement-making glamour and for extra wow factor Greer is finished with a stunning scoop open back. For a winter wedding, add an opulent and delicate short ostrich feather shoulder wrap to keep the chill at bay.
---
Contact our experts...

Andy Nesbit
DJ

Dawn Marie
Wedding and event designer

Helen Edwards
Wedding cake specialist

Tracey Whelan
Bridal boutique director
---