Why you should buy issue 29 of Your North East Wedding magazine...
November/December 2018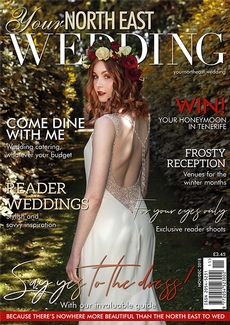 Tenerife competition
Win a honeymoon at Tenerife's Hard Rock Hotel, worth nearly £2,000
Secret service
After eloping, Brittany and Chris celebrated at Newcastle's As You Like It
Meant to be
Steph and Mark became husband and wife at Walworth Castle
The look of love
It was a church wedding and tipi reception for Shannen and Dean
Northern exposure
Northumberland venues to wed in and celebrate at
Winter's coming
Stylish wedding spaces that are perfect for the colder months
Barn dance
An exclusive shoot at Northumberland's Barn on the Bay
Fall in love
We're smitten with this exclusive shoot from bridal designer Kate Fearnley
Feed me
Ensure your guests' bellies are full with the North East's finest catering
Classic romance
An exclusive shoot from Erika Tanith Photography
Wearing well
North East experts advise on dressing the bridal party
Lady in red
Dress your maids in red teamed with gold
All that glitters
It's the season to sparkle with the latest accessories
Mask-erade
Bring the life back to your skin with these face masks
eMagazine
Available to download NOW for only £1.49
Printed Copy
(inc. free eMagazine)
Quantity in Stock: 1
Click here to use our online ordering service
---
Buy a copy
There are 5 different ways to buy Your North East Wedding magazine.
Click here to view some sample pages from an eMagazine
To order the latest copy of Your North East Wedding magazine or to obtain back issues, click here.
Alternatively call us to order your copy, post-free for just £3.45, on 01376 514000
Read Your North East Wedding magazine in electronic format for just £1.49 per copy (Smartphone and Tablet compatible) click here
You can subscribe for just £17.60!
Annual subscription (6 issues)
Save over 15% off the normal cover price
FREE postage and packing
Receive each issue as soon as it is published
To order your subscription, simply call us on 01376 514000 or click here
Alternatively, click here to order an eSubscription for just £7.60
4. Buy a copy from a retail outlet
Your North East Wedding magazine is available from newsagents and supermarkets.
However, if you do have problems, or if your newsagents has sold out, then call us!
We'll send your copy to you post-free for just £3.45 inc P&P. Simply call us on 01376 514000
5. Overseas Orders
For non-UK customers, please email admin@county.wedding for full details.
---