Ask the experts
Here is a selection of Q&As from Your North East Wedding magazine. If you would like your question answered by our experts, please email it to editor@yournortheast.wedding.
To view more Q&A's on a different topic, please select one from the list below.
Hot topic: Spring-a-ding-ding
From invite etiquette to keeping cakes cool, our experts are on hand to answer your big-day questions for the season ahead
---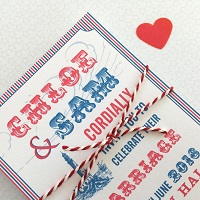 Grand designs
Q. We got engaged over Christmas and we've secured a spring date at our dream venue so now our thoughts have turned to invites. What should we consider when choosing a design and how far in advance should we send them out?
A. Debbie Macqueen says: Your choice of wedding stationery is very personal but should be chosen to complement the theme of your nuptials so that, from the moment your guests receive their save-the-date or wedding invitation, the scene is set for your perfect day. For example, if you've chosen a rustic country style wedding, you may want to consider invitations on Kraft card tied with rustic twine, or for an elegant city day, your invitations may be understated with whites and greys as the dominant colour palette. Bear in mind that you may want to continue your stationery theme through to the day itself, for example on menus, place cards, and the tableplan, so colours and themes should tie in with room dressing and floral arrangements.

Traditionally, wedding invitations were sent out six to eight weeks prior to the event, but it is more usual now to send them out around 12 weeks before, or earlier for an overseas celebration or for a wedding that takes place during a holiday period.
---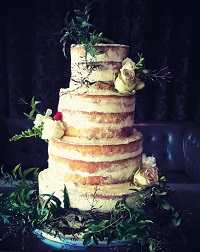 Keep your cool
Q. I'm looking at cakes for our spring do and I love the naked look – but can it survive in warmer weather? We're tying the knot in May and I wouldn't want to risk curdled cream.
A. Helen Edwards says: Naked cakes are a fab alternative to a traditional iced wedding cake and ideal for warmer weddings but, even in the North East, we can still get days that are a bit hot for fresh cream fillings. My advice would be to opt for a buttercream filling; it's a lot more stable than fresh cream and will withstand higher temperatures for longer. Also consider a semi-naked style, that light covering around the edges will really help to stop the cake drying out too quickly especially on a hot day.

If you're dead set on using fresh cream, ask your venue to keep the cake refrigerated until the last moment and, if by some chance we do get a tropical heatwave, simply fill your cake with a delicious jam and plenty of fresh berries, and serve with lashings of double cream alongside – it will still look and taste fabulous.
---
Flower power
Q. I'm putting together a moodboard for my summer wedding but am finding it all a bit overwhelming. What are the key trends for big-day flowers this season?
A. Becca Angus says: Foliage is a big trend for 2017 – and there's so much available from beautiful blue scented eucalyptus to asparagus ferns, pittosporum Dusty Miller and much more. Foliage is great for adding texture and colour to your wedding flowers.

We find the vintage trend is still very popular with brides and there are so many blooms that fit the brief, from dusky-toned roses to gypsophila, hydrangea or peonies. Bright flowers are also in, and wild is a popular trend too.
---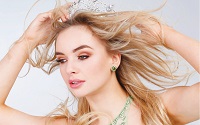 Looking hot
Q. I'm about to book my make-up trial for my spring wedding. and I want my look to be on-trend. What's hot for spring/summer 2017?
A. Alexandra Edgar says: As a bride-to-be, you couldn't have picked a better time to be inspired by catwalk trends. Wow, what a selection; from the nude and immaculate models at Chloe, DKNY's continuation of the beloved dark lip of AW16 and the graphic eyes at Fendi to my personal creative favourite, Preen, whose models sashayed down the catwalk in pressed flowers, there's a whole host of stunning trends to choose from.

Dewy skin prevails with cream formulas making a welcome comeback. Matching cheeks, lips and eyes in apricot, as seen at Jasper Conran, looks exquisite and photographs beautifully. Lipsticks are being used as blusher to stay on-trend, with the colour glazed in perfect balance.

Transform 'ceremony-chic' to 'centre of attention' in the evening by following the example of Luisa Beccaria with soft, ethereal sparkle adorning the eyelid right through to 1970s glitter glam.
---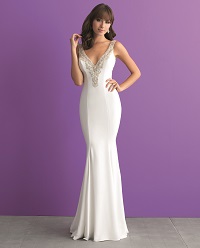 After dark
Q. I love the classic gown I've chosen for my big day, but want to change into something a little more on-trend for our evening do. What are the key trends for spring/summer 2017?
A. Tracey Whelan says: Classic gowns are fabulous, but it can be a bit of a relief to get them off after several hours. It's a fantastic idea to change into something a bit more lightweight or perhaps a touch va-va-voom for the evening. We're seeing some stunning new designs coming through this season from both Allure and Maggie Sottero, which are incredibly glamorous. A key feature is definitely the plunge neckline, and this suits all body types. Something like the Allure 3013 featuring amazing detail front and back, a low neckline and slinky fabric would be perfect. Add a pair of killer heels and some earrings, and you have instant Hollywood glamour.
---
Contact our experts...

Alexandra Edgar
Make Up Artist

Becca Angus
Florist

Debbie Macqueen
Stationery designer

Helen Edwards
Wedding cake specialist

Tracey Whelan
Bridal boutique director
---