Ask the experts
Here is a selection of Q&As from Your North East Wedding magazine. If you would like your question answered by our experts, please email it to editor@yournortheast.wedding.
To view more Q&A's on a different topic, please select one from the list below.
Hot topic: Autumn wedding woes
Local experts answer your questions
---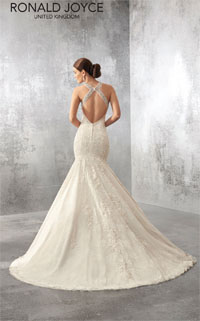 The dream dress
Q. I'm tying the knot in a church next autumn and although I want to be suitably covered I'd like a backless gown. What styles do you advise I check out?
A. Julie Watson says: It's a very exciting time but getting the right dress for your big day can be a bit of a challenge.

If you opt for sleeves, you could have a V-shaped back which would give you the cover you're after at the front, but still be backless. You can achieve this with any style; fitted, princess etc.

If you choose a sleeveless gown, cross over straps at the back can give the illusion of a backless design.

Wearing a veil can also act as a good cover up, as the open back of the dress will be softened with the fine coverage of the tulle. If you didn't want to wear a veil, then you could wear a wrap to go over your shoulders during the ceremony which you could then take off when you leave.
---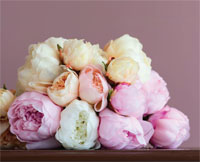 Blossoming romance
Q. I'm getting married at the beginning of October but am desperate for peonies, what can I do?
A. Annie Cannock says: Peonies are a popular flower, no doubt down to how gorgeous they are! Unfortunately though these blooms are in season from early May to mid-July so it will be difficult sourcing them out of spring or summer – you could have them imported but this will be at a significant cost. Why not check out similar blooms that are their best in autumn? If you're after a blousy bloom I'd suggest camellia or chrysanthemums. But don't forget about the other flora available – daisies, tulips, sunflowers and billy balls would make a fab hand-picked bouquet.
---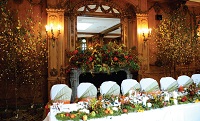 Delightful décor
Q. I'm due to wed this autumn and like the look of 'bringing the outside in'. How can I stylishly achieve this in my venue décor?
A. Dawn Marie says: The big theme right now is rustic with a chic twist, which celebrates the outdoors; think wood, stone and greenery – all things natural. With more and more wedding celebrations taking place outside, this is a great trend. However, in autumn you can't guarantee the weather so bringing this look inside is an ideal alternative. Pallet signs for seating plans or displaying the running order of your day are great, or go a little chic by using cream paint on rough wood. Use lots of lanterns, wood slices and autumnal leaves as table centrepieces and dot with berries and fruit.

Lighting can also be used to create an outside feel – think strings of vintage bulbs hung from the ceilings or go all out with a light box and greenery hung above your top table.

These themes work well with developing food and drink trends in catering. Quirky pizza vans, veggie sheds, fish and chip vans, Mexican pop-up street food, tapas, beer wagons, prosecco stations and delicious rustic dessert tables can all be used to give more of an outside feel to your event.
---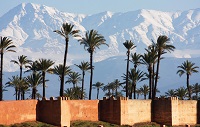 Holiday decisions
Q. We're tying the knot in November and would love to go on a winter sun break straight after. However, we have no idea where in the world can guarantee us sunny climes at this time of year. Can you help?
A. Sarah Reeve says: You certainly won't be short of fabulous weather if you honeymoon in November. It's a great time of year to explore Morocco, a country known for its culture, rugged landscape and mouth-watering cuisine. Its fourth largest city, Marrakech, makes an eye-opening mini-moon destination, or arrange a tour into the Atlas Mountains before heading on to Fez, Casablanca or Essaouira. A little further afield, yet still under seven hours away by plane, Dubai boasts consistently good weather, sandy beaches and superb shopping. It's often twinned with Sri Lanka or the Maldives for a memorable long-haul getaway. Indeed, the Indian Ocean islands are incredibly popular at this time of year, particularly Mauritius with its spectacular scenery, incredible five-star resorts and a raft of exciting activities to satisfy the inner adventurer.
---
Contact our experts...

Annie Cannock
Features Editor

Dawn Marie
Wedding and event designer

Julie Watson
Bridal boutique owner

Sarah Reeve
Travel Editor
---