Ask the experts
Here is a selection of Q&As from Your North East Wedding magazine. If you would like your question answered by our experts, please email it to editor@yournortheast.wedding.
To view more Q&A's on a different topic, please select one from the list below.
Hot topic: Big-day etiquette
Unsure on etiquette but not sure where to turn? Our North East experts are here to help
---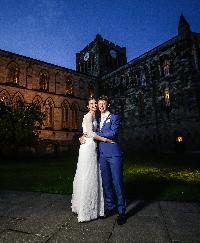 Tradition states
Q. What's the reason for throwing confetti at the bride and groom? We've just been told it's a no-go at our venue…
A. Owen Mills says: First, anyone can throw confetti at Hexham Abbey! The reason why many venues don't allow it mainly comes down to environmental concerns – which translates to the venue not wanting to clean it up! In my opinion, the banning of confetti is a bit harsh, especially when you consider the tradition and joy it brings to a wedding day. Confetti goes back centuries, with roots in Italy, where it was seen as a blessing to the couple and often involved rice or grain to signify fertility and the growth of their marriage. Over the years, people became more creative, and colour became a factor to add to the celebration and enjoyment of the occasion. So to save the planet, those non-killjoys among you may wish to look for biodegradable alternatives (such as flower petals) where venues will allow it, although they may be more expensive.
---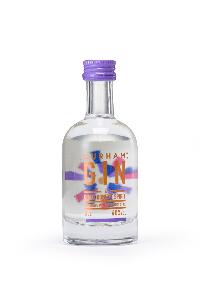 Do us a favour
Q. If my mam says we should have sugared almonds for our favours one more time, I'll scream! Are there any other ideas that incorporate the North East?
A. Jessica Tomlinson says: There are lots of alternatives available, including options to add a splash of personality to your table setting. Remind her that wedding favours should reflect your taste as a couple and tie in with your theme, all the while acting as a keepsake for your guests to remember the day by.

The North East boasts a wide range of local drinks, food and gift producers, making everything from spirits, scented candles, personalised tea bags and quirky cake pops. We make gin and vodka at Durham Distillery, including miniatures of Durham Gin – a unique blend of 10 botanicals paired with locally-sourced spring water. If you're avid gin lovers, a Durham Gin taster could be the perfect favour. Why not personalise each bottle with a name tag to double up as a place setting?
---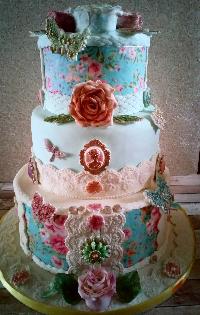 Taste sensation
Q. What are the latest flavours worth considering with our wedding cake? We're getting married in August 2020…
A. Sylvia Elizabeth Brydon says: Consider what flavour is your favourite as a couple for a start. Traditionally, a wedding cake would be a rich fruit variety. However, we've had to move with the times. There are now numerous flavours to choose from, including prosecco and gin, while vanilla, lemon and chocolate are still hugely popular. For those bride and grooms who prefer traditional fruit, remember that this needs to be made at least three months before the special day to allow the alcohol-infused dried fruit to mature. In fact, it's a case of the longer the better, so if you do decide to go for this choice, then give your cake-maker plenty of notice!
---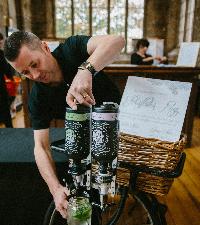 Drink up
Q. We're having a relaxed reception in our local village hall – but there's no bar on-site! What are some affordable options that don't involve me organising all the drinks?
A. Nicola Robinson says: There are many ways around this, and you could always start by asking your guests to bring a bottle to your celebration, getting some to bring mixers while others bring wine and beer. You could also delegate this task to an organised bridesmaid – or if you want a fully stocked bar, why not hire a company like mine? I specialise in vintage and quirky mobile bars and stock over 14 types of gin, have local craft beer on draught and a wide range of other spirits, as well as bubbles, wine, lager, cider, soft drinks, cocktails and mocktails. We also have our vintage mobile bicycle bar, Gin Wizz, which is available for free if you hire welcome drinks.
---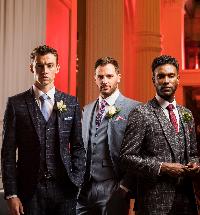 Suits you
Q. What are next year's trends for groomswear going to be? I'm about to start planning our December 2019 wedding and want to make sure my fiancé and his entourage look the part…
A. Declyn Cooper says: In these early stages, it is difficult to tell. However, judging on this year, I still believe blue suits are going to be key, closely followed by tweed. We have seen a massive rise in demand for tweed suits, whether that's poly/wool mixes or pure wool tweeds, which go against the summer months and heat.

Whatever you choose, the most important factor to consider is to make sure the jacket fits properly at the shoulders – so I'd always recommend visiting a tailor in-store for them to measure and advise. I also believe that if a groom or his party is worried about what to wear, keeping it simple always helps. George Clooney looked impeccable at the royal wedding, keeping it classy with his light grey suit, white shirt and yellow tie.
---
Contact our experts...
Declyn Cooper
Slater Menswear
Jessica Tomlinson
Durham Distillery
Nicola Robinson
Nickynoo Quirky Mobile Bars
Sylvia Elizabeth Brydon
Lucky Button Cakes
---