Ask the experts
Here is a selection of Q&As from Your North East Wedding magazine. If you would like your question answered by our experts, please email it to editor@yournortheast.wedding.
To view more Q&A's on a different topic, please select one from the list below.
Hot topic: Etiquette special
Worried you're following the correct etiquette when it comes to your big day? Our North East experts reveal all
---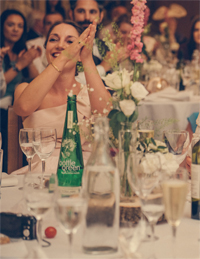 Please be seated
Q. I'm having trouble deciding where my guests should sit. My parents believe the most important friends and family members should sit together – but I know they won't get on! Can't I just place people together who I know will have a blast?
A. Christina Wood says: Traditionally the top table has consisted of the bride and groom, as well as both sets of parents, the best man and the chief bridesmaid. In today's world, top table planning can turn a dream day into a nightmare. Family politics often take centre stage – and then you've got friends travelling from all over the world and who gets on with who to consider. It can sometimes seem impossible, but there are a few suggestions that can make things easier. The most important thing is to remember it's your day and you can throw tradition to the wind and create a table plan that's tailored specifically to your guests. Perhaps you and your new husband could host one table of family and friends, and each set of parents could host their own, encouraging them to ensure their favoured guests are included and looked after. Mixing generations is always good, as is mixing both sides of the family. Some wedding parties also don't like that their chief bridesmaid and best man are on the top table without their respective partners, and decide to add them to the equation. Just remember you'll never please everyone, no matter how good your best intentions are!
---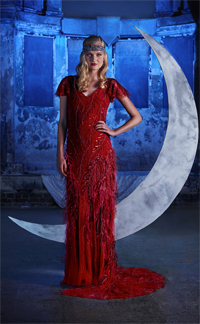 Lady in red
Q. I want to get married in a red gown for my wedding. I know this is more acceptable nowadays, but for a complete contrast I want our guests to wear white! Is it OK for me to ask them what colour to wear?
A. Janine Holmes says: It may seem like brides have worn white forever but in fact white wedding dresses only became popular after the marriage of Queen Victoria to Prince Albert in 1840. While brides today now wear many different coloured wedding dresses, superstitious people may have heard the rhyme 'married in red, you'll wish yourself dead'. This rhyme is definitely a myth, because many cultures including China, India and Vietnam actually deem red good luck, so if you want to wear red then go for it!

As for asking your guests to wear white – why not? If phrased in the right way most guests would enjoy the challenge, possibly even helping some narrow down their 'what to wear' choice. No matter how well you explain your theme not everyone will conform – some might not have read the invitation correctly or simply misunderstood it – but hopefully the majority will
---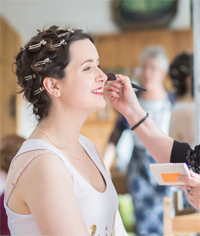 Splash the cash
Q. I want my bridesmaids to have their hair styled and make-up professionally applied, but my mother-inlaw is adamant I need to pay for it. Is this true? I'm struggling with my budget as it is…
A. Ashleigh Koefod says: It's usually the etiquette to pay for make-up and hair for the bridesmaids and the mums – if any other members of the bridal party want the same then it's acceptable to ask them to pay for themselves.

Don't be tempted to book cheap – you need somebody talented, professional and reliable for your big day – and always have a trial. However, there are still ways to save. Start by booking a trial session for yourself only – an experienced stylist or make-up artist will be able to create looks for bridesmaids on the day itself. If you feel you need a trial for the bridesmaids then just choose one to come along, as this look can be tweaked to fit the others on the day. Similarly, keep them all in the same shade of lipstick and they can share it to reapply throughout the day.

If you're getting married at a countryside venue you might be able to source a hair stylist and make-up artist that work together and would be willing to travel together – saving you having to pay twice. Try to book suppliers as far in advance as possible and get the price in writing – that way if their prices go up you'll still pay what you originally agreed on.
---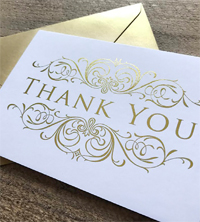 Giving thanks
Q. Our wedding is set to be huge – 250 guests in the day alone – and my mum's insisting thank you cards are a necessity. Are there ways around writing each one individually? It's making me more anxious than the big day itself!
A. Amber Black says: While it's traditional etiquette to say thank you for coming and comment on the wedding gift received I can understand how daunting this is for couples with a large number of guests attending. For a start, get your other half involved – they're just as vital to the big day as you are – so you can ideally get all of your notes out within six weeks of your wedding. Having both your writing styles is also a nice personal touch, and you can have fun remembering the big day while you do them – just make sure you compile a list of who's writing what so there's no confusion or double notes.

I'd also advise you invest in a bespoke range of cards, where you can come up with a template that includes some generic thank you text. You can then add a more personal sentence or two so you're not writing the same sentence over and over again. And please don't do this in one go over one weekend! It's better to do a few notes at a time and walk away – you'll only end up getting stroppy with one another, which is no way to start happily married life!
---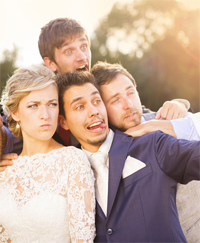 Social call
Q. We're quite a private couple and I don't like the idea of our guests posting our big day all over social media. Is there a way we can address this without sounding dull?
A. Timothy Cousins says: Not long ago it was considered ample for the parents of the bride to place an announcement in the local newspaper – then, if the couple were lucky, a week following the wedding a photograph would be published, perhaps with a few lines about where they had spent their honeymoon. How times have changed! People spend so much time #hashtagging and liking posts that it's easy just to assume they can carry on doing that when attending your wedding – but in doing so they can swiftly become the guest you wish you'd never invited.

If you're against social media tell people as soon as possible. Don't feel you have to give a lengthy explanation – just include a sign at your venue, a note in your invite or order of service and ask a member of your party to make an announcement. At the end of the day, Facebook will still be there long after your big day is over.
---
Contact our experts...

Amber Black
Stationer

Ashleigh Koefod
Make-up artist

Christina Wood
Wedding and events manager

Janine Holmes
Wedding planner and consultant

Timothy Cousins
Toastmaster
---