Ask the experts
Here is a selection of Q&As from Your North East Wedding magazine. If you would like your question answered by our experts, please email it to editor@yournortheast.wedding.
To view more Q&A's on a different topic, please select one from the list below.
Hot topic: Budget special
Worried about wedding finances? Our North East experts are here to help
---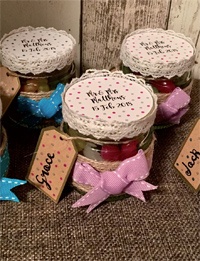 Do us a favour
Q. I'm set on using sweets for our favours. What's the best type of confectionary to use for our June wedding – and how can I make it look stylish?
A. Gemma Corner says: I love jelly beans, Smarties or good old dolly mixture for a summer wedding, as the variety of colours really stands out in a jar against all those decorations. What's more, these sweets are also really classic, and I think you'd struggle to find somebody who doesn't like them. In terms of making your favours look stylish, twine, hessian and burlap lace are all major wedding trends right now, so you can't go wrong with one of these as a base for that rustic look. You could then add some ribbon that ties in with your colour scheme for a stunning DIY favour – that looks like you've paid someone else to do!
---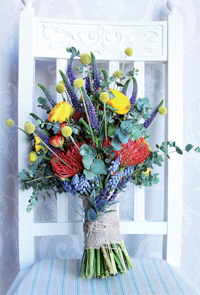 Bloomin' lovely
Q. I'm getting hitched in 2019 and want to make my own bouquet. What are the best flowers to use that I can tie together with ease – and are there any tips to prevent me getting in a muddle?
A. Jo Glenton says: A basic knowledge of floristry would be the ideal place to start – some florists will offer tips and advice, such as tying properly and even the basic principles involved. Make sure you remember to remove all lower foliage, thorns or any unsightly bits, choosing flowers with sturdy stems to avoid them snapping when tied. Roses are quite hardy and can look amazing, while using the same flower in the same colour will make it easier still, to allow the eye to 'flow' through the design.

Have a trial run, too, making sure you attempt it early enough so you can go to a professional florist if it doesn't go as you'd hoped. Whatever you choose keep it simple. Flowers can be very therapeutic – and imagine how proud you'll feel with your very own handmade bouquet!
---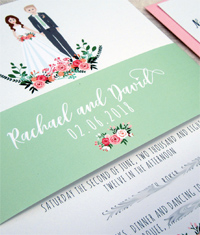 It's a write off
Q. I'm passionate about designing my own wedding invitations, while my husband-to-be is wary. Is there any way of working with a stationer to use them in more of a consultancy capacity?
A. Helen Scott says: It's great you want to be a part of the designing process of your invitations and yes, a stationer could be used in more of a consultant capacity. They can then guide you on the design aspect as well as practical elements, such as which card stock is best, complementary colours, ensuring the font is not too small and watching the bleed and cropping. If there's budget to do so, most stationers also offer a bespoke design service, which is great for couples who also want a proper input into the look and feel of their wedding invitations and other stationery.
---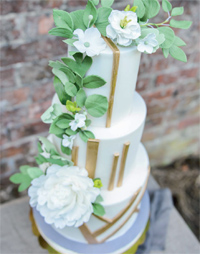 Have your cake
Q. My mum's planning on making my wedding cake – but the problem is I want a show-stopping creation! What flavours are trendy right now, and how can she best decorate it without too much stress?
A. Sharon Bimson says: The flavours that are trending this year are fresh and light, like passion fruit and vanilla, coconut and cherry and champagne. My advice for any non-professional making a wedding cake is to really not be too adventurous with the design. Don't try and copy elaborate creations you've found on Pinterest – and don't think you can learn how to make sugar flowers in a few weeks! Get your mum to keep within her skills base, opting for fruit cake which can be made in advance for less stress. Or why not have a professional cake designer make the wedding cake and ask members of the family to bring a pudding for a dessert table? It gives guests an opportunity to contribute – and there's no need to worry that your cake won't turn out like you'd hoped!
---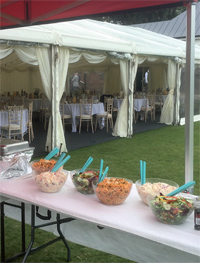 The munch bunch
Q. We're planning a massive summer picnic for our reception, with blankets and buckets of champagne for guests. What food's best to serve and is there anything I need to look out for?
A. Sarah England says: Most people think it's easy to cater – it is just cooking after all! However, when you cater for a large number of guests then all sorts of problems can arise. Great picnic foods for a wedding include neatly-cut sandwiches with various fillings, goats' cheese and tomato tartlets and any finger foods such as blinis and mini kebabs. However, food will start to become unsafe after just 20 minutes – unless you have refrigerated serving areas – while the maximum time the food can be out at room temperature is two hours. It's worrying to have to think about the cover you'd need if you accidentally gave a guest food poisoning, so instead please call in the professionals. From a traditional barbecue to a vegan spread or hog roast with all the trimmings, there's tons of caterers out there who can create the perfect bespoke menu – and without you having to worry.
---
Contact our experts...

Gemma Corner
Personalised sweet jars

Helen Scott
Stationer

Jo Glenton
Florist

Sarah England
Caterer

Sharon Bimson
Baker
---