Ask the experts
Here is a selection of Q&As from Your North East Wedding magazine. If you would like your question answered by our experts, please email it to editor@yournortheast.wedding.
To view more Q&A's on a different topic, please select one from the list below.
Hot topic: Wedding Worries
Unsure on etiquette or advice but not sure where to turn? Our North East experts are here to help
---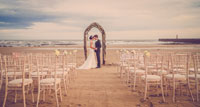 Beside the seaside
Q. I've always wanted to get married in the UK – but I want a seaside wedding too! Can you legally marry on a beach in the North East – and what happens if it pours down?
A. Leoni Yorston says: Although getting married on a beach in the UK is possible, it also has some grey areas that couples need to consider. UK laws dictate that couples must be married under a fixed or permanent structure. However, we get many requests from couples to marry on our stunning Roker Beach and are always happy to assist in achieving their dream wedding. It is possible to have a non-legal blessing on the beach before the bride and groom make their marriage legal and official by signing the registrar with their witnesses in one of our licensed event spaces. Our experienced staff also mean that if the weather chooses to go its own way, we are able to have one of our beautiful wedding spaces set up and ready at a moment's notice!
---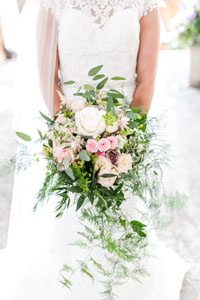 Roaring '20s
Q. My husband and I are having a 1920s-style wedding. What flowers should I have in my bridal bouquet to reflect our theme?
A. Moira Jacqueline Angus says: What a fabulous era to take inspiration from! The '20s was a new age in our history – with the war over, Britain was recovering and people were ready to let their hair down! This meant that weddings were becoming increasingly extravagant and bouquets were huge.

For your style of bouquet, I'd suggest choosing a large hand-tied design with trailing ferns, adding glamorous accessories such as feathers, pearls or diamanté. For the flowers themselves, choose phalaenopsis orchids, roses, blousy peonies, lily of the valley and stephanotis. This, when keeping the colour scheme to simple whites and ivories, will maintain the elegance and sophistication synonymous with the era.
---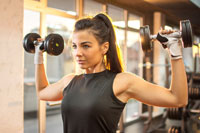 LIGHTEN UP
Q. I've been following a healthy-eating plan in the run up to my wedding and have dropped two dress sizes! What can I do when it comes to exercise to help me tone?
A. Caroline Smith says: Exercise is crucial during weight loss, as it will help you hold on to muscle while you burn fat. This, in turn, will stop your metabolism from slowing down, making it easier to continue to lose fat – and, more importantly, easier to sustain after the wedding.

I highly advocate lifting weights. Far too many women are scared of this because they fear they will bulk up. This is not the case at all, providing you follow a couple of simple rules. Lift heavy weights but make sure you can repeat the exercise with that weight 12-15 times and do more sets. Then, once you have completed 15 reps, repeat the same again twice. By increasing muscle mass in your body, you will increase your metabolism, which will lead to higher fat loss and a much more toned physique.
---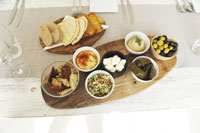 Eat and greet
Q. We're having a fairly relaxed wedding, but my mam's insistent we should have sit-down catering. My parents are paying, and I don't want to upset them – is there any kind of compromise?
A. Jane Madden and James Hopper says: As a wedding caterer, you want everyone to enjoy their day – but most importantly, the bride and groom. We'd start by explaining carefully to your mum that food served informally doesn't have to lack in quality. There are tons of ways you can enjoy street food stalls, barbecues or delicious canapés without having to sit down. Show your mum some more relaxed catering suggestions, such as fish and chips in traditional newspaper, hog roasts and even mobile pizza ovens. You can just as easily cater for any dietary allergy with these sorts of options – we frequently have to hide our beetroot, quinoa and halloumi burgers from the meat eaters or they disappear before the vegetarians get to us!
---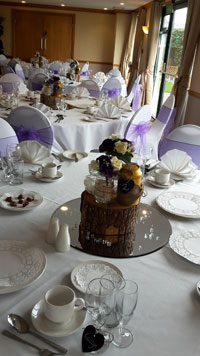 Style file
Q. My fiancé and I are on a budget, but we want our wedding to be as glamorous as possible. What areas should we invest in when it comes to venue styling, and are there any areas we could afford to scrimp on?
A. Jozene McKinnon says: Any venue can be transformed into a magical place without breaking the bank – you just need a little imagination, some candles and fairylights! If the venue chairs are in a colour that complements your theme, then fantastic – you've just saved on hiring chair covers and can add a simple sash instead!

If you're getting married at the same venue you're holding your reception at, you should also think about reusing certain items. A cluster of jars filled with flowers, or a lantern with flowers or candles down the sides of the aisle, can also be used as centrepieces, by placing them on a mirror with a few scatter crystals. And don't forget about the way you can save decorating the top table and cake table – the most cost-effective decor is to place the wedding party bouquets in some vases that are ready and waiting.
---
Contact our experts...

Caroline Smith
Trainer

Jane Madden and James Hopper
Catering

Jozene McKinnon
Venue Styling

Leoni Yorston
Wedding and Events Manager

Moira Jacqueline Angus
Florist
---