Ask the experts
Here is a selection of Q&As from Your North East Wedding magazine. If you would like your question answered by our experts, please email it to editor@yournortheast.wedding.
To view more Q&A's on a different topic, please select one from the list below.
Hot topic: Wedding worries
Unsure on etiquette or advice but not sure where to turn? Our North East experts are here to help
---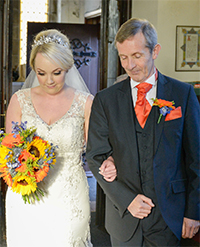 Walk the walk
Q. My dad has recently come back on the scene and is keen to walk me up the aisle, but I feel it's only right to ask my step-dad. How can I avoid hurting his feelings?
A. Leanne Clark says: I've seen lots of ways in which parents and step-parents get to play a part in the day, without treading on each other's toes. Everyone's family dynamics are different, but providing you talk to both dads well in advance there's no reason for it to spoil your day – they'll more likely than not do whatever it takes to make you happy. We've had ceremonies where both dad and step-dad have walked the bride down the aisle, and other occasions where the step-dad has escorted the bride from her bedroom and handed her to her dad at the top of the aisle. You could consider asking your father to do a reading in the service or perhaps be the official ring-bearer, another hugely symbolic gesture. Asking your father to witness the signing of the register is another suggestion. The speeches offer more opportunities to involve both dads – if you don't feel comfortable asking your dad to give the sole father-of-the-bride speech, then maybe you could have two, or he could give a toast or a blessing? And after your first dance with your spouse, make sure to dance with both dads.
---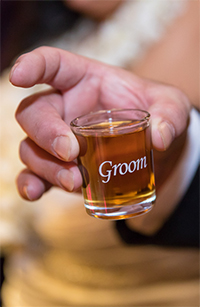 Drinking game
Q. How can I stop my husband-to-be from going all-out when it comes to alcohol on the day? I just know it will start with the best man plying him with whisky to calm his nerves…
A. Christian Cassidy says: The key is to pace the alcohol intake, so make sure that the pre-ceremony drink is literally just enough to calm his nerves! Why not think ahead and provide a survival kit for the boys on the morning of the wedding, with enough whisky to calm those nerves – but not so much they'll be tiddly before the ceremony? I've seen these before at a few weddings, and they're a great touch and keepsake of the day.

Guests will also be bringing over celebratory drinks to the groom – and you! – after the service, and it can be all-too easy to continue drinking in order to keep the pre-speech nerves at bay. Make sure your groom keeps a decent pace here, adding a soft drink in between every alcoholic one, so he's relaxed but sensible when it's time to take the mic. By the time the evening reception comes around you can both really start to let your hair down and have fun!
---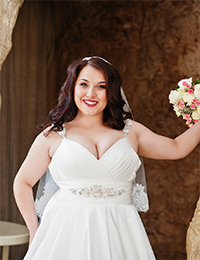 On the plus side
Q. I've never been interested in fashion and am stressing about my wedding dress. I'm a size 24 and am worried my size won't suit any style of gown.
A. Victoria Hickson says: I think as a bride every girl puts so much pressure on herself to find the perfect gown. Whether it's a classic style or something a little more sexy and fitted, no matter what your shape or size you will look beautiful on your big day. Size is just a number and bridal sizes can be small-fitting, so don't let that put you off. It's about finding a gown that makes you feel comfortable and confident – and a huge part of that is having confidence in yourself, and allowing that to shine through when you find the one! Always try to have fun at your appointments, remembering that searching for your dream gown is all part of the bridal experience. Don't put a lot of pressure on yourself and just go with it, asking questions and seeking advice. If you're worried about visiting a store as you're unsure if they have a plus size collection don't be afraid to ask. Give them a call or message them in advance, as it will help you choose your appointments carefully and more productively. I promise that your dream dress is just waiting to be found.
---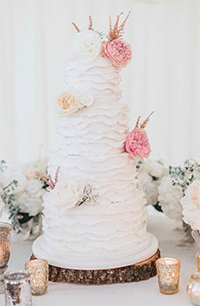 Bake off
Q. My husband and I are vegan, and although we are catering for all our guests' dietary requirements we want a wedding cake we can actually eat. Help!
A. Diane Trett says: With the number of vegans in the UK rapidly rising, thankfully it's no longer such a challenge to find a wedding cake supplier who will cater to your needs. Of course, vegan baking means no eggs or butter, two ingredients that are usually considered to be the basis of any cake. However, there are so many alternatives to the traditional cake, with apple sauce, mashed banana, soy yoghurt and chia seeds all acting as a suitable binding agent in baking instead. In the UK, our top brand flours and sugars are considered suitable for vegans, as they do not use bone char in the production process, and there are several gelatin-free sugarpaste brands available as well. This makes vegan cakes just as delicious, as the substitutions don't affect the texture or taste – in fact they are often nicer.
---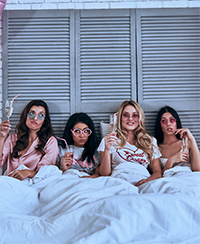 Zen hen
Q. I'm the maid of honour for my best friend – and she's adamant she wants a quiet, relaxing hen do. What can I suggest so the others can still enjoy a bit of wine and a giggle?
A. Emma Harrison says: It's always hard to please everyone in the hen party, but your bride really should be 100 per cent happy with your decision. You don't have to venture too far to have a weekend where everyone is happy, so if she's shuddering at the thought of Ayia Napa or San Antonio then you need to look at other options. A girls' spa weekend away could be just the ticket – she gets to relax and enjoy some muchneeded pre-wedding treatments, while anyone who fancies a tipple can enjoy a couple of cocktails or some prosecco. Our Girls' Night In package is the perfect combination, and includes a private room with popcorn, movies and glass of prosecco on arrival, a film of your choice, a Junior suite to share with a friend, use of our award-winning spa, 15 per cent off any treatments you book during your stay and a delicious breakfast the following morning.
---
Contact our experts...

Christian Cassidy
Photographer and videographer

Diane Trett
Owner

Emma Harrison
Wedding and events coordinator

Leanne Clark
Events manager

Victoria Hickson
The Blue Bow Bridal Company
---