Ask the experts
Here is a selection of Q&As from Your North East Wedding magazine. If you would like your question answered by our experts, please email it to editor@yournortheast.wedding.
To view more Q&A's on a different topic, please select one from the list below.
Hot topic: Alternative special
After a wedding that doesn't fit the norm? Let our North East experts help
---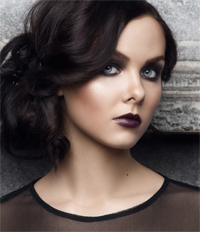 The dark side
Q. As an alternative bride I want my make-up to match. I don't want to do it myself, but am worried many make-up artists will be wary of my ideas…
A. Melanie Hedley says: Your make-up should always reflect your own style and unique personality, and anyone worth booking should be happy to discuss your requirements. You shouldn't find any hesitancy, especially with the rise of stars like Kat Von D, who rocks something more unusual but is still utterly feminine. I'd recommend focussing on dark, smouldering eyes, getting your make-up artist to begin with a medium brown matte eyeshadow, which should be built up in the upper socket. Ask them to gradually build in intensity with a couple of shades of brown, before applying a liquid dip pot liner in black all over the lid, gently blending in to the socket area using delicate feathering. The intensity of the liner locks the eyeshadow onto it, creating a bold, ultra-modern look. I like to use black, dark plum, burgundy or navy – but even brighter colours like peacock green and blue look amazing.
---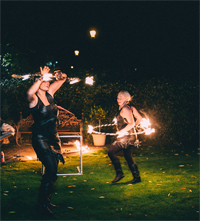 Juggling act
Q. I want to entertain our guests during the drinks reception and photos – but we're in no way traditional. What are some truly unconventional ideas to match our personalities?
A. Penella Bee says: You should feel confident your entertainment reflects your lifestyle and personalities – you wouldn't compromise normally so you certainly shouldn't when it comes to your wedding! For a start do some research online to see what ignites your interest, even joining certain social media groups and asking advice from people with similar interests to yours. Entertainment such as fire and light show performers will certainly get your guests talking, with fully choreographed shows including fire eaters, hula hoops and twirling fire sticks all available. You could even have stilt walkers welcoming guests in a theme of your choice, while children can be entertained with a circus skills workshop and some good old fashioned balloon animals.
---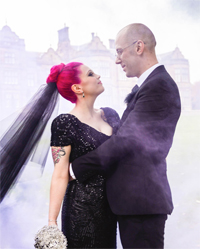 Snap out of it
Q. As we're having an alternative wedding I'm finding it hard to choose my photographer. I want someone who really gets my ideas, no matter how unusual they may be!
A. Kimberley Waterson says: Having an alternative wedding is the best way to celebrate your day the way you want to – and not what 'tradition' dictates. When looking for your photographer always ask to see portfolios including full-day weddings, remembering to find out what they loved the most about them. I personally love the creativity and thought process that goes into an alternative wedding, as well as how relaxed and fun they can be. Make sure you listen to your photographer when it comes to lighting, planning a few shots throughout the day to capture the light just right. A good mix of daylight images and artificially lighting shots will create a fuller feel for the day, ensuring you look back through your images and are wowed by what you see. Trust in your photographer and get excited about the shots you've planned, as your photographs will be so much better if you have remember to have fun!
---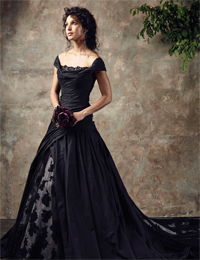 Little black dress
Q. I'm desperate to get married in a black wedding dress – but I want to go to a boutique to buy one! Am I being unrealistic and should only look online?
A. Danni Hesketh says: Black wedding dresses are a little bit of a rarer find, however, some designers do offer this option on certain styles of wedding dress. Ian Stuart creates some amazing dramatic gowns and has a spectacular design called Opera Noir, which is available in black. The company even offers a sample loan service on any of their gowns to be brought in-store for a small additional charge, which is completely worth it to find the dress of your dreams.

Ordering a wedding dress online may seem like a good idea, however, there are many more risks involved. Quite often the images are not a true representation of the actual dress you will receive, while the quality can be much poorer to match the lower price paid – which is often non-refundable. By purchasing your wedding dress from a designers' authorised retailer means you can try samples of the dresses in advance of ordering, will receive a high level of customer service throughout and can be assured your gown will arrive to the same quality and specification as what you tried on at the boutique.
---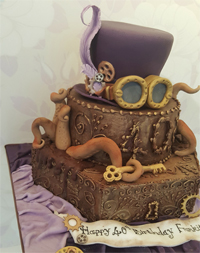 Let them eat cake
Q. We're having a steampunk wedding and want a cake that showcases our love for all things alternative. What styles can you suggest – and what about choosing flavours and colours that are equally as fun?
A. Amanda Heaviside says: I absolutely love steampunk, as it lends itself so well to the world of cake-making. Think about all those Victorian fabrics with their vintage lace, bustle dresses and laced-up corsets, which can be recreated from sugar to wow your guests. Although the cake pictured is in fact a birthday creation it shows how stunning a steampunk bake can be, with pistons, cogs and wheels and an obligatory top hat and goggles. Opt for rich purples, blacks and rusty browns for icing – or why not colour your sponges and have alternating layers of purple blueberry sponge and chocolate cake? For quirkier flavours think about gin and tonic, lavender or roseinfused sponge – or the quintessentially British favourite, the tea loaf!
---
Contact our experts...

Amanda Heaviside
Baker

Danni Hesketh
Bridal boutique manager

Kimberley Waterson
Photographer

Melanie Hedley
Make up Artist

Penella Bee
Entertainment
---